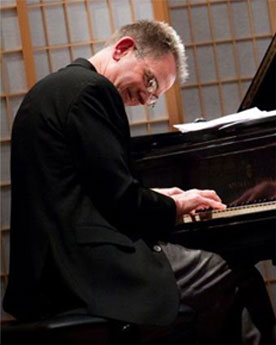 George Oldziey, Composer for Film and Games, Music Recording and Production, Jazz Pianist
George Oldziey is a composer, pianist, recording engineer and music producer. He has extensive film and game composition credits and provides musical production and recording facilities in his Austin studio.
If you are interested in original music for films, games or video production you can hear samples and see more details at my music site, Oldziey Music. If you would like more information about my recording studio and musical production work, check out my Greenhaven Studio site.
George's News
I first started composing the music for the WC3 movie scenes before the filming was done, and had to work with the great storyboards that Marc Baird created for us in order to come up with some thematic ideas. Chris Roberts really liked the initial music I did to the boards for the opening sequence, often bringing family and friends into my office to have me play it for them. When I finally got the actual footage, which was on VHS tapes with SMPTE code burned on them, he felt like that music didn't quite work. I'd already composed the gameplay music for "The Last Mission to Kilrah" and thought that theme would be a strong one to represent the entire project in the opening sequence. I synced that up, along with an intro, to the movie and submitted that to Chris to check out. He called me at home later that evening to say he liked it, but he wanted a darker Kilrathi theme for the throne room sequence. He said, over the phone, "give me something like (and he proceeded to sing), dah dah dah, dah-de dah, dah-de dah (Darth Vader theme)". I said, "OK" and mulled it over. I went for a long run early the next morning (been an avid runner since I was 20) and a theme came to me in the middle of the run. As soon as I got my sweaty self home I sat at the piano and got the theme, and a chord progression, down on paper. That became the Kilrathi theme for the project. I played it for an old composition professor some years later. He asked, "why so many minor chords?". I said, "they were really bad guys". :)
As of today, we are approaching the $8,000 mark for funding the Wing Commander orchestral music recording campaign, and that's after only two and a half days! I am so humbled by the amazing response! Thank you all from the bottom of my heart!
Please check out my regular updates, which include some fun stories of my days at EA/Origin! And if you feel like backing this amazing recording project that would be terrific!
Musically yours,
George
Today is the big day! The Kickstarter campaign to raise funds to a studio orchestral recording of select music from my Wing Commander scores begins today! The goal is to have an 80 piece orchestra and 40 voice choir record AT LEAST a 9 minute suite or music from Wing Commander 3 and 4. If we surpass our goal we would have the possibility of recording more of the WC music!
I'll have regular updates here as the campaign progresses, including stories and interesting tidbits from my days with the Wing Commander team at EA/Origin!
Thanks for your support!