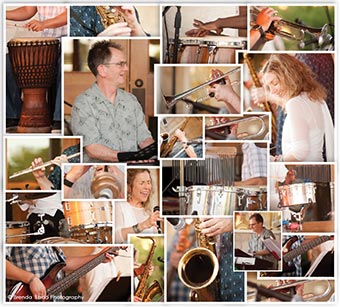 GATO 6 - Samples
The New CD, "El Viento" is done! Here are a few samples from the GATO 6 musical menu!
Ojo Del GATO

-A happy, bouncy Brazilian baio beat with playful horn lines and great solos on the full version!

El Viento

- The title track of the CD featuring a sensual, Brazilian rhythm with lovely lyrics and vocals by Suzi Stern!

GATO Get It!

- A blues based cha-cha featuring some blazing horn solos and a rollicking salsa interlude in the full CD version!

Unchain My Heart

- The classic blues/R & B tune but with that distinctly "GATO" flavor!
GATO 6 - Latin Jazz Meets World Music in Austin
GATO 6, Austin's premiere Latin Jazz band, is a high powered, all-star ensemble that performs George's original music which draws on his myriad world music and jazz influences. The band features locally, nationally and internationally renowned artists such as Dennis Dotson on trumpet, John Mills on reeds, George Oldziey on piano, Wayne Salzmann on drums, Kris Afflerbaugh on bass, Luis Continho and Mike Longoria on percussion, and the incomparable Suzi Stern on vocals.
GATO 6's premiere CD, "El Viento", will be officially released on Thursday, August 23rd, and will be available at Austin's Waterloo Records as well as at Amazon.com, CDBaby and in digitally downloadable form from iTunes.
GATO 6 Performance Calendar
My great Latin Jazz band, GATO 6, had a CD debut worldwide today! It's called "El Viento", and it features some really great musicians. It's available at CDBaby, Itunes, Amazon, and a host of other sites. The physical CD features beautiful artwork by Brenda Ladd, so grab that from CDBaby if you can!
The date is finally set! Don't miss the premiere CD release party of the season! Friday night, Sept 7th will be the long awaited release of GATO 6's CD "El Viento". This event will take place at Austin's premiere jazz venue, The Elephant Room on Congress and 3rd St. CDs will be available for sale at the event. Hope to see you there!